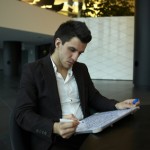 Graphic design school is challenging, which is one of the many reasons a good education from an accredited college is an important step for any would-be graphic designer. Students find that registering for classes can be as stressful as the curriculum itself, but thanks to some hard-nosed teachers those students are grateful for their choices later one. Teacher Wendy Shapiro recently lifted the veil and explains why some graphic design classes are so hard and how that helps the student:
The moment before registering for classes can evoke a variety of emotions among students. Some experience excitement as they take a step closer to graduation. Others lose sleep from the fear of registering for a required course instructed by a professor known for stringent grading and high demands. Their fingers tremble with trepidation as they make the mouse click of no return. Many students, however, look back at their experiences with these instructors and realize signing up for a class was a decision they would never regret.
Graphic design professor Wendy Shapiro is known for her attention to detail and high expectations of students. While they acknowledge the difficulty of her class, Shapiro's students agree they're better graphic designers because of it.
Shapiro hails from Norristown, Penn., a small town outside of Philadelphia. Growing up in a family rich with a history of educators, she seemed destined to follow their footsteps. However, after taking four years of graphic design in high school, her love for the subject created a difficult decision for which career path to take. She eventually decided to switch majors from education to graphic design for her last two years of undergraduate study.
"I thought I would get tired of teaching after a period of time and my grades were so much better in graphic design," Shapiro said.
She went on to work for the North County Times as its marketing and advertising designer. Instructional Technology Services at San Diego State also utilized her services as a graphic designer.
Read the rest of her story at The Daily Aztec.
More Reading about Graphic Design School teachers:
Teens get lessons in financial literacy
Mott Community College professor Mara Jevera Fulmer heading to Russia as a Fulbright Program specialist