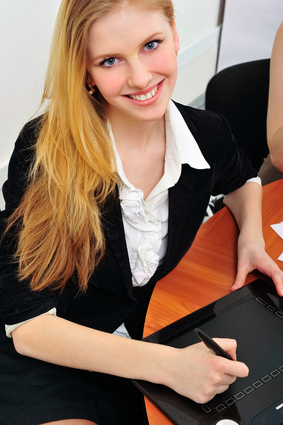 For future students of graphic design, exhibitions offer a unique chance to peek into the world of graphic design schools and get a glimpse of the quality of work that they can obtain.
Years of hard work at a graphic design school typically culminates with a senior exhibition, which gives students a chance to showcase their work through a collection of graphic designs. Exhibitions are generally free and open to the public, where design firms and others interested in graphic design can get their first impression of the newest generation of artists.
Interested parties in McPherson Kansas can experience such a display at McPherson College through the 24th of April:
As senior studio art and graphic design students prepare for graduation from McPherson College, they have one more opportunity to demonstrate their skill and creativity. The current exhibition at the college features more than 200 pieces of work by seven seniors in a huge variety of styles and mediums.
"I can't believe how prolific they are," said Wayne Conyers, professor of art, "The amount of work and the quality of work they create is just phenomenal. There's such a range here. They've all developed their own style, which I think is absolutely wonderful."
The work is on display in McPherson College's Friendship Hall through April 24, with a reception for the artists from 2 to 4 p.m. on April 22.
Bethany Schoenwetter, McPherson, Kan., works mostly in large, broadly sketched human figures in monochromatic colors. In this exhibit, her work mostly consists of charcoal drawings inspired by classical figures in paintings and sculpture, but with the faces replaced by people she knows. Also in her work are intriguing figures of dancers in India ink over yellowed sheet music.
Just across the hall, Wes Story, Little Elm, Texas, has displayed two motorcycles he designed, as well as works in a variety of mediums with a Western theme uniting them.
Read more from McPherson College here.
More Reading on graphic design schools:
Tactical Magic Design Featured in Textbook
PBL raising funds with McCook College's history
South Tech student is over the moon about Venus' T-shirt design