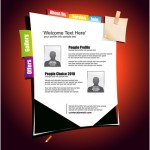 Each year in graphic design schools around the country, student designers are working hard to build their portfolio – a file full of designs, plans, and accomplishments that will help them land jobs following graduation.  Some students need to begin building their portfolios from their first year in school so that they can then apply for graduate programs in the future.
Students need not wait until it's time to apply to that graduate program or to apply for their very first job in graphic design, however. Each year, the Art Directors Club hosts an annual portfolio review for students in graphic design schools and other creative arts arenas.
The newest class of young talent in advertising, design and interactive will once again assemble in New York for the Art Directors Club National Student Portfolio Review, taking place April 30-May 2 at the ADC Gallery.
This prestigious, invitation-only review event features participation from dozens of the nation's leading visual communications schools and their top student talent. Each year, dozens of creatives working in advertising, design and interactive volunteer their time to review portfolios from 300 of the most promising graduating seniors in advertising and graphic design nominated by selected faculty members. The program was the industry's first to add an entire separate day devoted to Interactive reviews.
The annual event is segmented by day: April 30 for Design reviewing, May 1 for Advertising and May 2 for Interactive. Each day runs noon-6:00 pm, and creatives can spend all or part of the day at the ADC Gallery meeting with students and reviewing portfolios. Lunch will be served, along with flavorful shaved ice courtesy of People's Pops.
This year's review sections are chaired by three top creative leaders: Joe Marianek, associate partner, Pentagram (Design, April 30); James Cooper, chief creative innovation officer, JWT New York (Advertising, May 1) and Kash Sree, former chief creative officer, SS+K (Interactive, May 2).
Read more from Dexigner.com here.
More on building a portfolio in Graphic Design School:
Graphic Design Portfolio | Top Five Portfolio Tips
Preparing and Talking About Your Graphic Design Portfolio