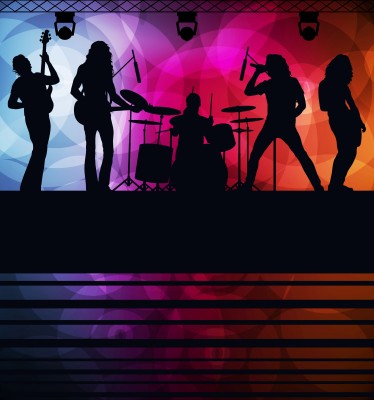 Graphic design classes are a great way for students to learn about the art, but they are no replacement for real-world practice. Students who are afforded the opportunity to participate in community programs and work for local businesses while in school learn about dealing with real clients. Problem solving skills are critical to success as a graphic designer and projects like Drastic Measures band posters for the students in graphic design classes Maynard High School allow students to practice solutions-driven design:
Maynard — Students in graphic design classes at Maynard High School were recently given the chance to apply their classroom skills in the business world to create promotional posters for the Maynard-based band Drastic Measures, which will be performing in the Clock Tower Cafe on Saturday April 21.
Michael Candela, who started the band, approached the Art teacher John Flynn about doing the design work.
"Kids have fresh young minds. Everything I design seems to look like something else. I was hoping the kids would think about this differently and give a fresh perspective," Candela said.
He put the group together because he wanted to play the music he listened to growing up; dance music from the 70s and 80s. Candela said he reached out to musicians to put on one show for friends and family. But the scope of the event grew and the band decided to team up with the Maynard Business Alliance and Maynard Community Chest and the one-night dance party turned into a town-wide benefit for the Community Chest.
Candela said Alliance members will sell tickets and Community Chest members will decorate the café, serve as ushers and also sell tickets.
Party-goers will listen to music of the Bee Gees, Donna Summer and Earth, Wind and Fire, among others, as well as some rock by Joe Cocker and Tom… read more from Maynard Wicked Local.
More news on Graphic Design Schools:
Graphic Design Professor Attracts Students with Passion for Design
The Art Institutes to Open New School in Greater St. Louis Area