A graphic designer's job is to create images, materials and designs that help clients communicate visually with the public.  Graphic designers must be creative and artistic but they also need graphic design training to provide them with the technical and theoretical knowledge required to have a successful career in design.
Everywhere you look, you will see the work of graphic designers.  Magazines, book covers, corporate logos, signage systems and websites are all examples of a designer's work.  The images they create play an important role in advertising and marketing.  Designers must determine their client's needs and understand the message they want to communicate.  The designs they make must send the right message across.
To be able to address their client's needs, graphic designers need more than artistic talent.  They have to understand the principles of communication, design and marketing to work successfully with clients.  They also need technical skills to be able to use computer software to create their designs.  Graphic design training can prepare an individual for the challenges of graphic design.
Degrees and Coursework
There are approximately 300 graphic art and design schools accredited by the National Association of Schools of Art and Design that offer programs in graphic design.  A graphic design training program can lead to an associate's or bachelor's degree.
Associate's Degree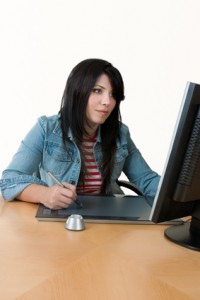 You can earn an associate's degree in graphic design in two to three years. This level of education can qualify you for a technical or assistant graphic design position.  This program is ideal for someone who already has a bachelor's degree in another field.  It can give you the skills needed to work in graphic design.
Bachelor's Degree
A bachelor's degree program takes four years to complete.  Most graphic design positions require a bachelor's degree in design.  Colleges, universities, professional schools and art institutes provide graphic design training where you will be exposed to the principles and technical skills required in visual communication.
A bachelor's degree program includes the following subjects: studio art, principles of design, computerized design, commercial graphics production, web site design, printing techniques, psychology, writing, art history, marketing, business and more.
Prerequisites for Graphic Design Training
Most graphic design schools require applicants to be a high school graduate or its equivalent and complete one year of basic art and design.  Most art schools also require applicants to submit a portfolio, sketches or other materials to demonstrate their artistic ability.
Graphic designers must be willing to learn new techniques and technologies, listen to clients' requests and work with others.  The right graphic design training can provide designers with the theoretical and practical skills they need to build a successful creative career.