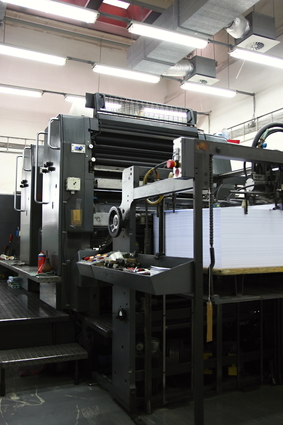 Longwood University had a bit of a surprise when a project that was designed to help students in graphic design classes work with the public on real-life graphic design projects. The program's coordinators wanted to start things slowly, but they soon found that students were excited about the prospect of working in the school's graphic design shop.
The school's student paper published an article that quoted on teacher saying, "We were going to have a fairly soft roll-out and it just took off really fast." As The Rotunda reported, the graphic design class idea turned into something much, much more:
Longwood University's Design Lab is a mixture of a course and an on-campus club/organization. The stu­dents in this class work with real clients, present real sketches and produce real products.
These students are responsible for many of the posters you see on campus as well as logos you see for local businesses. It all started with Professor of Art. Chris Register and Assistant Professor of Art Wade Lough.
The two men went to the Dean of the Cook-Cole College of Arts and Sciences Dr. Charles Ross with their idea, which, according to Register, they thought would fall into place with the dean's under­graduate research.
Upon their idea's arrival, Register and Lough put together a "special topics class" and got to handpick the first students. They thought this class would be limited solely to the art department, but this was not the case. Register said, "We were going to have a fairly soft roll-out and it just took off really fast."
Design Lab first started in spring 2010 with a small group of graphic design students. Junior Kathryn Grayson said the class has expanded significantly since its start. The class (although its students treat it more like a true design organization and… read the whole story on this graphic design program at The Rotunda.
More News on Graphic Design Schools:
Graphic Design Student Makes his Mark
Lassen Explains Future for Graphic Design School Students