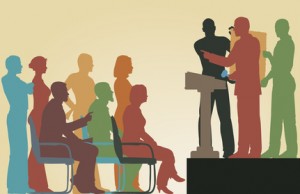 Students studying graphic design are putting their skills toward a good cause benefiting their own class and Winnipeg Harvest.
Winnipeg harvest is a non-profit organization in Manitoba, Canada that helps get food to needy people in the community.
Graphic design students from Red River College will be at the Forks Market for the 10th Annual Art Festival and Auction this weekend to create works to be auctioned off. They will be drawing and sketching works of art during the art festival which will be auctioned before the end of the event on Sunday.
Winnipeg Harvest is a community-based organization that strives to make the general population aware of the hunger that happens in their own town and works with partners to find lasting solutions to the problem. They keep a surplus of food and distribute goods to any family who needs help.  Each dollar form the art auction that is donated to the food bank could purchase up to $20.oo in groceries for needy people in the community.
Red River College has 13 campuses in Manitoba and three in Winnipeg. The graphic design school at Red River College offers basic and advanced degrees in graphic design. According to the school's website, the graphic design program offers up-to-date artistic training in technology, techniques, and philosophy.
The rules for the auction are simple: graphic design students can use oil, pencil, or any medium they choose. They just have to create original works of art. The festival will take place on Saturday between the hours of 9 a.m. and 6 p.m. and on Sunday from 9 a.m. until 11:30 a.m. The graphic design student's creations will be auctions off between 2 PM and 5 PM. The money raised by the auction will go to Winnipeg Harvest as well as the student's graduation fund at Red River College.