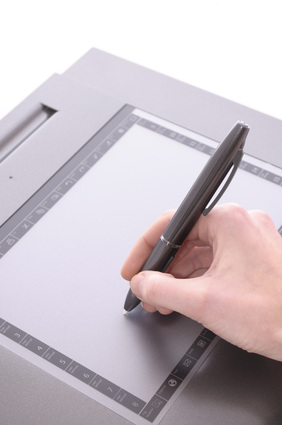 In graphic design schools, students learn how to take an idea and turn it into a visual illustration. So any type of company needing this type of service will hire graphic designers to fulfill the order. Some types of companies (marketing agencies, for example) retain full-time designers who graduated from a college program. Other companies hire graphic designers on a contract-only basis to fulfill a specific work order.
Graphic designers are responsible to nearly all types of media and imagery seen in the world today. From the layout and design of this website to the billboards outside your home or office, a graphic designer was at work to create an image for you to perceive. The job of graphic design graduates is important – they convey the meaning of things with or without words.
Who is Hiring Graphic Designers?
There is no conclusive list of companies that hire graphic designers. Rather, any company or entity that needs graphic work or an artist to convey a specific message or idea is likely to hire a graphic designer. For a more permanent role in the industry, graphic design colleges refer to marketing agencies and design firms as the most stable employers in the industry because they always need graphic designers. But many companies will hire their own, in-house graphic designer. These companies exist in all types of industries.
What Type of Jobs do Graphic Designers Fill?
According to Taylor Loran of Suite101, graphic designers are hired for a wide variety of roles:
"Art Director – Usually manages a team of designers. Is responsible for the creative vision behind the project. Has previously worked as a graphic designer and had a broad range of design software skills, as well as an understanding of production and materials.
Animator – Anything animated, such as flash Web site intros, TV and video openers and closers, DVD menus, etc.
Layout Artist or Desktop Publisher – Usually given text and images to work with. Focuses heavily on the relationship between the text, images and message of the overall piece. Works in a print media focused environment as an in-house designer for a business or in editorial.
Logo Designer – Hand drawn or with a computer, a logo designer creates logos for companies and helps them create a specific and distinguishable brand for their company.
Flash Designer – Flash was previously mentioned under animator, but being a specific flash designer requires more than just creating an intro for a Web site. Flash Web site design requires knowledge of how Web sites should be structured, an understanding of complex Flash design software and knowledge of web design.
Illustrator – Conceptualize and create hand drawn graphics as well as digitally created graphics. Usually contained within the fields of technical illustration for medical textbooks or book publishing, packaging, etc.
Multimedia Designer – Works in the film and TV industries, as well as advertising agencies. Uses audio, video, photographs to create compelling cross platform pieces for viewers and/or readers. Also can create designs for sets, props and costumes.
Web Designer – Focuses on the visual side of the creation of Web sites, although most successful web designers also know how to code Web sites and have a basic understanding of Web site infrastructure."
Read more: Disciplines Within Graphic Design and What Jobs Are Available